CONSCIOUS CASHMERE
N.Peal strives to be the destination for sustainable luxury cashmere, recognised and trusted for our integrity and quality worldwide. Consciously and consistently treating people, animals and the environment fairly and with respect is at the core of our business and we continue to find new ways to improve. We take our social and environmental impacts seriously, ensuring our products are sourced and manufactured responsibly, sustainably and cultivated naturally whilst protecting the environment and securing a positive way of life for our Nomadic Mongolian herding communities today and for generations to come.
We have come a long way but this is an ongoing journey and we're continually reviewing ways to improve all aspects of our business, making conscious decisions and small steps to a better future. We are working with our suppliers to achieve a fully organic, transparent, sustainable supply chain, from Goat to Garment to improve the world of cashmere for generations to come.
HAPPY GOATS
All of our cashmere comes from goats in Inner Mongolia because these fibres are the longest and finest in the world. Working in synergy with the seasonal cycles, when the time is right for the goats to naturally shed their cashmere undercoat in Spring, the fibres are hand-combed from the goats and the herders collect this renewable supply year after year. We believe in happy goats and this traditional method is an entirely harmless and cruelty-free process for the animals.
Our cashmere is barcoded at origin, allowing us to trace the fibres from Goat to Garment, this enables us to monitor the quality of the fibres and in turn, the care and health of the animals, directly from source.
ORGANIC CASHMERE
For the first time, over 50% of our latest collection is made with Global Organic Textile Standard (GOTS) certified 100% Organic Cashmere, with the projection of moving to 100% organic production by 2025.
All of our organic cashmere is sourced from a GOTS certified Mongolian co-operative of herders. The controlled environment covers 428sq kilometres and ensures no use of fertilizers or pesticides that can damage local wildlife. We work alongside the cooperative herders with animal welfare, various animal husbandry and breeding programmes to improve the overall quality of the cashmere fibre. During the dying process, only GOTS certified organic chemicals are used and the water used in our organic production is part of a closed loop irrigation system – ensuring not a drop is wasted. The water is irrigated back into local farmland; which in turn is used to grow fruit and vegetables for the workers and local communities. All chemicals are 100% organic or OEKO-TEX certified by industry standards.
Our organic cashmere does not compromise the goat's welfare or the management of the land by over-grazing, over 8,000km of open plains are certified as organic. We fully embrace the positive environmental impact of organic production and reassuringly, it still enables us to produce the best quality cashmere, 100% Organic cashmere is no exception – the quality is discerningly the best.
100% NATURAL
Cashmere is a 100% natural, renewable & biodegradable fibre.
Cashmere as a fibre is naturally hypoallergenic, breathable & odour resistant. The inherent antibacterial properties of cashmere mean it can be washed less frequently and laundered at lower temperatures, further reducing the environmental footprint.
Our design philosophy is to create impeccable cashmere garments that will be coveted for years to come. With generations of experience sourcing the finest quality cashmere fibres, we ensure the longevity of all N.Peal products. We continue to encourage customers to buy less, buy better, care for and cherish their cashmere.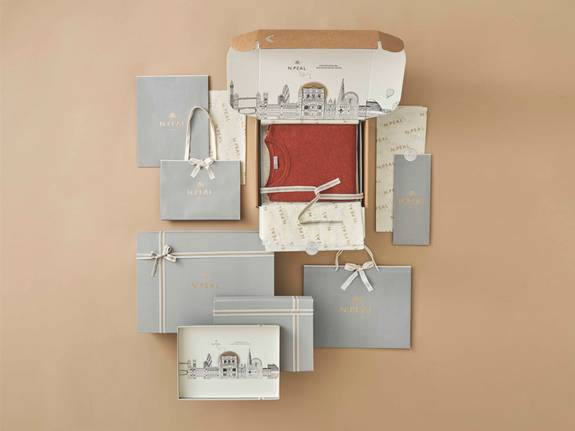 PACKAGING
Being environmentally friendly is an important company ethos and together we can reduce our carbon footprint. All N.Peal web orders are delivered in cardboard boxes with branded tissue paper, all of which is 100% recyclable and by the end of 2021, all of our signature luxury gift boxes & bags will be made from FCS certified 100% recycled and recyclable paper, these boxes are optional at checkout to minimise waste.
We plant a tree for every order placed on npeal.com and are partnered with Ecologi to make this happen. Tree planting is one of the many steps we're taking to offset our Carbon Footprint, with the ultimate aim of being Carbon neutral.
We encourage minimal use of plastic and paper at our head office & all of our stores and we only use plastic where absolutely necessary, when we do, all of our plastic packaging is made from 100% recycled grade 4 plastic.